Hairloss Efficiency Study
Despite the fact that natural active ingredients have all been proven individually to be beneficial to the health of the hair and scalp, we believe it is necessary to test them together under actual usage conditions, in a controlled study using scientific methodology.
TEST METHODOLOGY    Carried out at the CTC Laboratories, Barcelona
No OF PARTICIPANTS: 25 [Men and Women]
DURATION OF STUDY: 6 months
AREA OF APPLICATION: scalp
USAGE CONDITIONS: Hair Loss Treatment: Daily, Hair Loss Shampoo: Every second day
ANALYSIS TECHNIQUES: Trichogram / Videophototrichogram / Photograph
TEST TYPES: Pull Test and Wash Test
RESULTS OF THE EFFICIENCY TEST
RESISTANCE TO LOSS: Measurement of the number of hairs lost when washed and combed, at the CTC laboratories Centro de Tecnologia Capilar. Results for 80% of the sample group. The study showed the capacity of the NaturVital hair loss programme to increase hair's resistance to falling out. It is also important to point out that resistance to loss was improved for each and every one of the participants in the test.
HAIR REGENERATION: The Trichogram test (an examination under a microscope of the bulbs of hairs that have been pulled out) clearly shows the capacity of the NaturVital hair loss programm to increase the number of hairs in the growth or anagenous phase, in other words, that it is capable of regenerating the hair. It is also important to point out that hair regeneration was improved for 96% of the participants in the test.
MICROCAMERA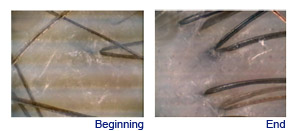 Tests carried out using a microcamera (x 150) provide valuable information on hair regeneration.
RESULTS: Overall, hair density was increased, which means that the hair was being regenerated. The hair was also observed to be thicker.
MICROSCOPE PHOTOGRAPHS OF HAIR BULBS
BEGINNING OF THE STUDY (Photo A): Small root, with underdeveloped and dehydrated cells. Fibrous-looking external shaft as a result of dehydration.
END OF THE STUDY (Photo B): Larger, well-developed bulbs. Rehydrated external shafts with strengthened anchoring system. Notice the hook-shaped curvature, which increases resistance to loss.
SELF ASSESSMENT
A treatment may be effective from a clinical perspective, but unsatisfactory for the user based on usage or the cosmetic qualities of the products. The assessment test allows us to measure the degree of subjective satisfaction of each user.
RESULTS:
88% notice more or the same amount of hair at the end of the study.
96% notice that their hair has the same thickness or is thicker at the end of the study.
88% consider it effective or very effective.
GENERAL APPEARANCE
From the general photograph, it is possible to see straightaway the improvement in the amount of hair to the front as well as the reduced greasiness of the hair, with more body and volume noticeable at the end of the study.