PPD Free ColourSafe Black No. 1 Hair Dye
£10.99
Deep Raven Black with great coverage and shine.
NaturVital ColourSafe PPD Free Black No. 1 is the only Permanent Hair Colour available with NO PPD, NO AMMONIA, NO GLUTEN, NO RESORCINOL, NO PARABENS, NO MINERAL OILS, NO ABP.
ColourSafe packs also contain Natur Vital's Sensitive Shampoo and Hair Mask which is hypoallergenic.
Email to a friend
Description
PPD FREE PERMANENT HAIR DYE
Revives hair colour
UK's first PPD FREE Permanent Hair Dye. 100% gray coverage.
Permanent colouring with high skin tolerance, due to the absence of PPD (PARA PHENYLENEDIAMINE), Ammonia, Parabens, Resorcinol, Mineral Oils and ABP, making it gentle on hair, scalp and hands.
Its exclusive naturally derived formula, rich in Plant keratin along with a special blend of organic Aloe Vera gel, natural Sunflower essential oil, natural soy extracts activates the colour to fortify the hair for a healthy colour boost. Wheat protein is used for volumising high-gloss shine.
All these protects the hair during colouring to reveal shiny nourished look and takes care of hair fiber and scalp.
ColourSafe packs also contain Natur Vital's Sensitive shampoo and Hair Mask which is hypoallergenic. These leave your hair shiny and smooth and offers protection providing long life colour.
HAIR CARE WITH YOU IN MIND
NO PPD (PARA-PHENYLENEDIAMINE)
NO AMMONIA
NO RESORCINOL
NO PARABENS
NO MINERAL OILS
NO GLUTEN
NO ABP (Aminobiphenyl)
ORGANIC INGREDIENTS
100% NATURAL PRESERVATIVES
NO ANIMAL TESTING
COLOUR SCHEMA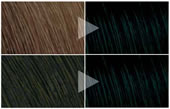 USE
Wash your hair 24 to 48 hours before dyeing to allow natural oils in your hair to develop allowing dye to bind to your hair more easily.
You must do a sensitivity test 48 h before the use of the hair dye. We Recommend That the Patch Test is done on the inner Elbow
People sensitive to PPD can also be sensitive to other ingredients in ColourSafe formula. These dyes are aimed at users who want to avoid the cumulative effect of these ingredients.
Follow the directions provided on the product and apply the dye to your hair in sections. Set a timer. Wait until the process time is up to rinse your hair. Shampoo and condition your hair with the provided NaturVital Sensitive Shampoo and Hair Mask. Dry your hair and style as usual.
RESULTS
Maximum Grey hair coverage
Shiny, nourish hair look
Revives hair colour
Long life permanent colour
Organic Ingredients
Intense, bright color
Long-lasting
Colour protection
Maximum care
Additional information
Weight
155 g
Net Content

150 ml

Includes

Coloursafe packs also contain Natur Vital's Sensitive Shampoo and Hair Mask which is hypoallergenic.

No animal testing

YES

Active Ingredients

Aloe Vera, Soy, Sunflower, Wheat

ORGANIC INGREDIENTS

YES

100% natural preservatives

YES

AMMONIA FREE

YES

RESORCINOL FREE

YES

PARABENS FREE

YES

NO PPD (PARA-PHENYLENEDIAMINE)

YES

NO MINERAL OILS

YES

NO GLUTEN

YES

NO Aminobiphenyl (ABP)

YES

No additives needed

YES

INGREDIENTS

At Natur Vital we understand you cannot make permanent hair colorant without chemicals as the process requires complex reactions to ensure long lasting vibrant colours. Natur Vital has removed or replaced with less aggressive ingredients the main causes of allergic reactions: ammonia, resorcinol, parabens and PPD.

Coloursafe offers consumers a choice of permanent colours which are less aggressive and more gentle on your hair.

It is essential you peform a patch test 48 hours prior to application details are contained in the instruction leaflet.

Listed below is the full ingredients contained in the Coloursafe Hair Dyes range:

Colour Cream:
Aqua (Water); Cetearyl Alcohol; Ethoxydiglycol; Phenyltrimeticone; Ethanolamine; Stearamide MEA; Ceteareth-60; Betaine; Polyquaternium-6; Isopropyl Myristate; Ethoxydiglycol Oleate; Helianthus annuus (Sunflower) seed oil*; Sesamum indicum (Sesame) seed oil*; Wheat Aminoacids; Soy Aminoacids; Arginine; Serine; Threonine; Parfum (Fragrance); Hexyl Cinnamal; Limonene; Cetrimonium Chloride; Sodium Sulfite; Sodium Ascorbate; Disodium EDTA.
Toluene-2,5-diamine sulfate; 2-Methylresorcinol; 1-Naphtol; 2-Amino-4- hydroxyethylaminoanisole sulfate; m-Aminophenol; p-Aminophenol; 2,6- Diaminopyridine; 4-Amino-2-Hydroxytoluene; 2-Methyl-5-Hydroxyethylaminophenol; 2-Chloro-p-pheylendiamine sulfate; 1-Hydroxyethyl 4,5-Diaminopyrazole sulfate.

Colour Developer:
Aqua (Water); Hydrogen Peroxide; Cetearyl Alcohol; Tetrasodium EDTA; Etidronic Acid; Sodium Lauryl Sulfate; PEG-75 Lanolin; Simethicone; Phosphoric Acid; Phenacetin.

Shampoo:
Aqua (Water); Sodium Laureth Sulfate; TEA Lauryl Sulfate; Cocamidopropyl Betaine; PEG-7 Glyceryl Cocoate; Glycerin; Sodium Lactate; Aloe barbadensis leaf juice*; Panthenol; Althaea officinalis root extract; Polyquaternium 11; Dipotassium Glycyrrhizate; Polyquaternium 10; Calcium Panthotenate (Vit. B3); Inositol (Vit B7); Biotin (VitH); Retinol (Vit A); Tocopheryl Acetate (Vit. E); Glyceryl Linoleate; Glyceryl Linolenate; Glyceryl Arachidonate (Vit. F); Isostearamida MIPA; Benzoic Acid; Propylene Glycol; Glycol Distearate; PEG-55 Propylene Glycol Oleate; Cocamide DEA; Parfum (Fragrance); Citric Acid; Dehydroacetic Acid; Sodium Chloride; Phenoxyetanol; Disodium EDTA.

Hair Mask:
Aqua (Water); Cetearyl Alcohol; Aloe barbadensis leaf juice*; Cetyl Esters; Glycerin; Juniper communis fruit extract; Behentrimonium Chloride; Panthenol; Cetrimonium Chloride; Parfum (Fragrance); Phenoxyethanol; Benzoic Acid; Dehydroacetic Acid; CI 77891.
7 reviews for
PPD Free ColourSafe Black No. 1 Hair Dye
---
06 Customer(s) recommended this item
Reviewed by 07 customer(s)
Recommended

I've developed a bad reaction to drug store hair dye's where I had bad stomachache, difficultly with breathing, headache and rash. I am very pleased with this product. I would recommend the hair dye to anyone.

Black hair dye

I am so pleased I have found a black hair dye I am not allergic to. I have been unable to dye my hair for 16 years. Now I can be me again. Thank you

Changed my life!

Without sounding dramatic, this hair dye has changed my life! I am allergic to PPD, to the point where I can feel my airways swelling up! I also suffer with Psoriasis and eczema so my skin is extremely sensitive. With a normal hair dye I would have an initial reaction whilst dying my hair, swollen eyes/ears, trouble breathing and standing and an itchy rash all over my body. My nose would block up for the entire night afterwards and I would get a scabby rash on the bottom of my neck. These symptoms would stay with me in some part for around a month, making me look and feel old and swollen the whole time. I am naturally a dirty blonde, but as I am tanned I enjoy having black hair and its easier to manage, so when I found this hair dye which gives me absolutely no reaction AT ALL, and an even better colour it has just changed everything – I'm so happy!

I bought black dye

I have used this natur vital for years now! I love it….I always end up with a professional salon look but with out paying them prices! With other home dyes I end up with a nasty allergic reaction…causing a very painful itchy head. But with these ppd free dyes…I don't suffer like that.

The Best!

I'm allergic to regular hair dyes. I started using Tints of Nature which was brilliant until I left it on for too long, my fault, and I reacted! I thought that was it for me and I'd just have to grow old gracefully. I came across Natur Vital and thought I'd give it a go and OMG it's even better than ToN. It doesn't go runny it's easy to mix and so gentle. My hair is beautiful and black and I have zero reaction. I think it's because it doesn't contain an ingredient that ALL other hair dyes do. I always keep no less than 4 boxes now because I'd hate to run out 🙂 if your a sensitive scalp person or react to black dyes this is the BEST!!

Quality

Good quality hair colour. Good service. 👍

I loved it..thank you so much..my hair is shiny and most of all no itching..I feel happy to know that I can use this dye after a horrible lurgic reaction. .thank you ..Jean x
Aloe Vera

Known and used by the Roman armies and the natives of Mexico and southern United States. Aloe Vera was used to protect the skin from the sun and to sooth irritated skin. The Aloe Vera gel contains phospholipids, trace elements, amino acids, vitamin B, squalene and saponins. In beauty it is prized for its moisturizing, emollient and soothing skin protection.

Soy

PlanPlanta with rigid stem and hairy, the flowers are white or purple and the fruit is a pod which contains seeds of different colors. Soy is rich in carbohydrates, proteins, enzymes, fatty acids, phenols, flavonoids, phenolic compounds and minerals.

Sunflower

Plant with a herbaceous stem, heart-shaped leaves and large, yellow flower heads. It contains flavonglucosides, anthocyaninic glucosides, xanthophyll, choline, betaine, sapogenin and chlorogenic acid.

In cosmetics, sunflower seed extract is used as it is rich in polyphenols, to protect the colour of natural and dyed hair against the aggression of ultraviolet rays and free radicals.


Wheat germ

Part of the grass family and is characterized by its long stem, dark green, like leaves and a spike more or less dense depending on variety. Its key ingredients are fatty acids, phospholipids, sterols, tocopherol and pro-vitamin A. Used in cosmetics for its vitamin properties, emollients, refatting, Restructuring of hair keratin and antioxidants
Natur Vital 14 day No Quibble Guarantee
At Natur Vital we are so sure you will like our products that we offer you a 14 day no quibble guarantee on all products purchased.
For whatever reason you are not satisfied with your purchase just return it to us within 14 days of purchase and we will refund your full purchase price.
See our Returns policy for full details